Welkom to
The Fantastic world

of the Bromeliad
nice that you take a look at our website
and welcome to the fantastic world of the Bromeliad. There is nothing we like more than getting people enthusiastic about the plants next to which we breathe, laugh and work. If you see the plants we are talking about here, you will immediately understand where our good humour comes from. The Bromeliad is surprising, colourful, dynamic and above all, highly ornamental. As you can hear, we are enthusiastic. Now you can be too!
People are the core of our business; you, your team and of course 'the consumer', whom we make happy every day with our top-quality indoor plants.
Our company culture is characterised by the high level of involvement of colleagues with each other and with the company. You are part of a 'flat' organisation, which is practical and approachable. Equality, respect and trust are self-evident. Our drive to achieve things together means that there are sometimes expectations of everyone, but we like to celebrate our success. We find job satisfaction important and we realise it at work, but also during the breaks, the Friday afternoon drinks and the team events.
Where do we want to go and
How are we going to do that together?
Giving satisfaction to all involved people is extremely important to us:
Employees are happy to make their skills available to us;

suppliers are happy to supply us;

customers earn money with our products;

consumer expectations must be exceeded.
It just shows how important it is to work together and to join forces in order to achieve the best results. We have already realised that we cannot reach our goal on our own. Our slogan therefore is:
"Together we can go further"
The power of cooperation is what takes us further.
OUR HISTORY
Grown with passion and love
1971

Founded by Jan Bunnik under the name Bunnik Vriesea's

1978

Move to Kudelstaart because the sales of indoor plants were in Aalsmeer

1993

New location Mijnsherenweg and Siegfried joins the company

2000

Construction location Achterweg Björn joins the company

2006

Location Mijnsherenweg expanded

2009

Establishment Bromelia Specialist

2018

Expansion of the location Achterweg

2020

Breeding greenhouse taken into use

2022

Name changed to Bunnik Bromelia
In addition to producing one of the world's most colourful plants, we also process
20.000 plants every day
With our top team!
Curious about our varieties? Then take a look in our greenhouse below!
OUR ASSORTMENT
Grown with passion and love
Aechmea
Ananas
Guzmania
Vriesea
MEET OUR TEAM
Our specials
Substainable

and innovative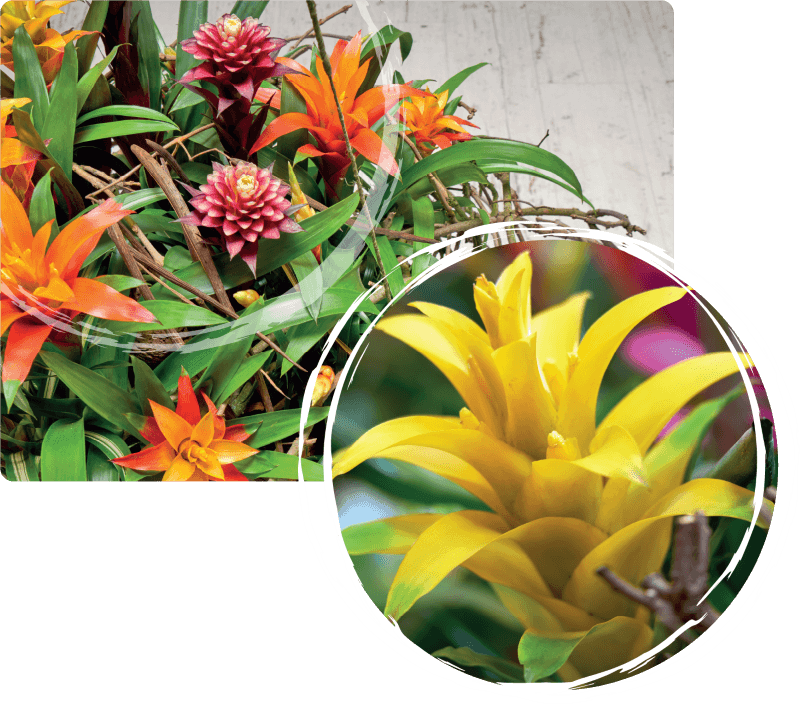 We like to make the world
colourful with beautiful bromeliads
And with smart sustainable solutions and innovations, we contribute to a green and healthy world.
Light, CO2 and water are needed for a plant to grow and flourish. For this growing process, we enjoy working in and with nature. The choices we make, on short and long term, contribute to a healthy living environment. Good for people and plants.
WHY BUNNIK BROMELIA?
Working at Bunnik Bromelia means working in one of the most colourful and cheerful work environments you've ever seen. Our team makes European consumers happy every day with our sustainably produced tropical plants, which we supply to garden centres, florists and supermarkets, among others. We produce these plants at two locations in the Aalsmeer region. We have passion for our products; cooperation and innovation are key. Our committed and driven team uses the latest technology to produce the most beautiful Bromeliads, which are then packed according to size. In this way, together we ensure the best quality products.
@ Bunnik Bromelia
Do you want to stay up to date with the latest news? Follow us on Facebook or Instagram